MARLINTON, WEST VIRGINIA – Rugged mountains, dense forests, running streams and a man with a dream. A one-man operation, Ben Wilfong of Marlinton, West Virginia, had to conquer more than just low-market prices to get his cattle operation where it is today.
Wilfong's roots in agriculture run deep. He grew up helping his grandfather farm in Marlinton. Determined to get more involved, at 12 years old Wilfong took out a loan from the bank to buy sheep to start showing.
But as Wilfong got older, he temporarily left the farm to serve his community as a West Virginia State Police Officer. Wilfong worked in law enforcement for 10 years before returning to his country roots.
"I had the opportunity to expand the farm in an unfortunate circumstance," Wilfong said.
In 2006, Wilfong's grandfather passed of cancer. At that time Wilfong decided to leave the sheriff's department and continue his family tradition in agriculture. Although a tough decision, he knew it was the right thing to do for himself and his family.
Starting his own operation was not easy.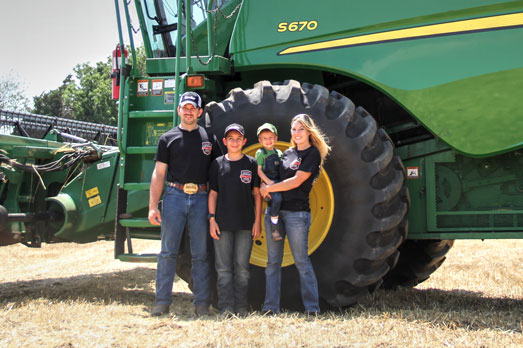 Wilfong family visits Kansas Harvester
"I was faced with the challenge of either fixing what was there or starting completely over," Wilfong said. "Although the hardest and most expensive option of the two, I decided I had to start over."
"Getting involved in agriculture is for sure an investment," Wilfong said. "That is part of the road block to young people getting involved."
His operation, known as Mountain Top Angus and Auctions, is made up of family: himself, fiancée, Kayala; and sons Jaryd, 12; and Layne, 3.
Wilfong's first change to MTA was to get involved in the cattle business. In the winter of 2006 he bought his first 100 cows and leased pasture land. His operation has since grown to more than 200 Angus, SimAngus and ChiAngus cows and 3,500 acres.
"This is going to make my life a lot easier," Wilfong said. "I could not be more thankful. It is truly a dream come true."
- Ben Wilfong
"As the operation grew, it became more difficult to feed cows because the land was so spread out," Wilfong said. "Buying a tractor to have at each location just was not feasible."
Wilfong was traveling a spread of more than 50 miles every day to feed in each of his pastures. He would load bales on his truck with the tractor, and push and unroll them by hand.
Wilfong decided he needed a bale bed.
Not able to afford one immediately, he started saving to buy one. Then, he caught word of the DewEze 20,000 Likes in 200 Days Sweepstakes.
"I put this on my Facebook page not knowing if this contest was legit or not," Wilfong said. "You always see contests on Facebook and you never know if they are real or who won." Wilfong entered the contest more than 120 times and had more than 1,160 referral entries from sharing the contest on Facebook. "I tried to make it part of my daily routine to enter every single day," Wilfong said. "Most farmers in the area are familiar with the DewEze brand, however they only run 25 to 30 cattle, so the purchase of a DewEze Bale Bed just isn't economical for their operation."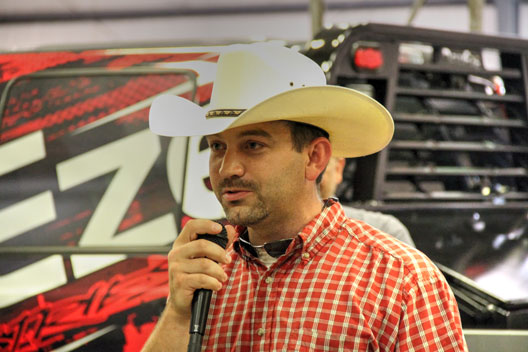 Ben Wilfong receives new DewEze Bed
After the giveaway announcement, Wilfong weighed how to customize his new bed.
"I could not decide on a parallel or pivot," Wilfong said. "I use four foot by five foot bales and I thought a pivot would work better for me."
Wilfong chose a 682 Pivot XRM.
"This is going to make my life a lot easier," Wilfong said. "I could not be more thankful. It is truly a dream come true."
Developed by: Kallie Lampe, Jessica Reber & Melissa Bergkamp Harper Industries, Inc. Marketing Department