BEH
by DewEze
This green technology - backed by DewEze® eHydraulics - offers a turnkey solution for anti-idling regulations. The battery-powered electric (BEH) system is engineered to power hydraulic needs for medium-duty truck applications. A steel-constructed cabinet houses a 12V motor, two 100/110 amp class batteries and a charge monitoring system to power your hydraulic needs. The BEH power house is available in two packages: Lithium Ion at 200 amp hours and AGM at 220 amp hours. The DewEze-designed package (24 x 16.5 x 11.5 inch) conveniently fits into any tail shelf frame rails. Providing the best in mobile hydraulics for more than 30 years, DewEze is proud to offer this sustainable energy initiative to power the work truck industry. Reduce. Reuse. Recharge.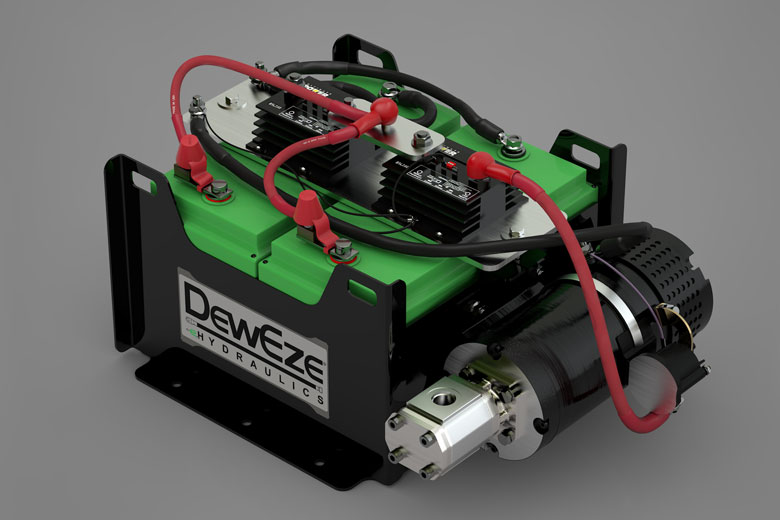 Think
Green

. Think Smart.
Think DewEze.

This self-contained hydraulic power system is built around a durable steel cabinet with simple mounting inside your Service Body's toolbox.

Top-of-the-line AGM batteries (220 amp hours) and groundbreaking Lithium Ion battery (200 amp hours) options are available.

Simply drill a few mounting holes, connect cables from your truck battery, hook up your hoses, and attach two small wires to turn the unit on - and installation is done.

Never worry about restarting your truck with this system - the battery monitoring system will keep your truck safe from discharge. The advanced system protects your battery investment and can activate an alarm to warn you when you need to recharge.